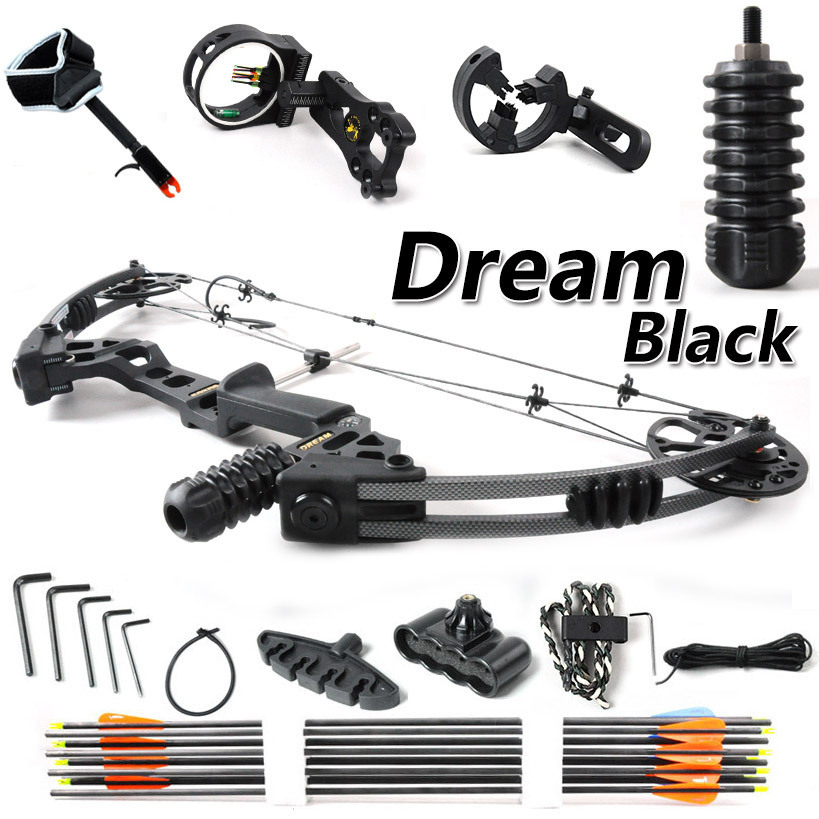 Black Right Hand Draw weight 20-70LB Draw length are Adjustable Hunting Compound Bow and Arrows set Archery steel release aid
Type:
Bow & Arrow Set
Use:
Hunting
Model Number:
hunting compound bow M120
feather material:
plastic
is_customized:
Yes
draw weight:
20-70lbs
color:
black
axle to axle:
30"
Product Description
Hunting bow&arrow set, Super Aluminium alloy handle, bow and carbon arrow, archery set,compound bow,bow archery for hunting
slingshot,bow,compound bow,arco e flecha,caza,archery,caça,bow and arrow,hunting bow,recurve bow,broadheads,carbon arrow,arco composto,archery bow,slingshot hunting,tirachinas,compound bow arrow,mini crossbow,arco recurvo,catapult,steel rage,arrows,arrows archery,besta arco e flHot Sale
Super Aluminium alloy handle, CNC machined handled super aluminium alloy cams,rubber dampers and stabilizer, nylon arrow quiver
Specification
RH&LH compound bow(RH means draw the string by right hand, LH means draw the string by left hand)
1. Item NO. M120
2. Type Compound bow
3. Color Black, light camo and dark camo or customerize
4. Draw weight 20-70lbs adjustable, set as 40lbs
5. Draw length 17''-29'' adjustable
6. Arrow speed 320fps
7. Axle to Axle 30''
8. Brace height 8''
9. Let-off 75%
10. Bow net weight 3.6lbs
Material
1) All CNC Machined;
2) Super aluminum riser ;
3) Imported durable and strong string ;
4) Double limbs insures long lifespan ;
5) High quality Cams and strings fuel amazing speed 320FPS ;
6) Efficient, accurate, light, fast, smooth, shock-free and very silent;
Item Picture
Package Content
1 x Compound bow, 1 x D-Loop, 1 x Peep sight, 1 x 5-pin opt sight, 1 x Brush arrow rest, 1 x Rubber stablizer, 2 x Ruber Dampers, 1 x 4-arrow quiver, 1 x String silencer set, 1 x Wrist sling, 1 x Stainless steel release aid, 1 x Allen Wrench Set, 1 x String wax, 1 x 60cm target paper, 1 x Instructions, 10 x arrows
Dark camo, light camo and black color avaliable and can be Customerized

Attention
Never dry fire, which leads to deadly damage to the bow and injury to the archer and people around.
Avoid heat and damp, which can damage the limbs of bow.
When shoot, make sure there are no people or other non-targets in shooting range.
Inspect the bow regularly, never use the bow with damaged parts and replace them in time.
Never shoot arrows straight up in the air. Child use should be under adults supervision.
MAINTENANCE
The bow needs regular maintenance. Check the string each time before shooting. If the string is loose, please tighten it and if the string is broken or damaged, please replace it in time.
The string becomes pale after using for a while, please use string wax to improve it. Wax the string, then rub the string fast back and forth until the wax fully permeates the string.
Keep the release aid in dry place when do not use it, drop some lube to the pins and axises regularly. Never disassemble the release aid.
When shoot, if arrow-vane is distorted, put it in hot water(no more than 2 minutes) to restore.
STORAGE
Keep the bow in dry, cool and ventilated place and avoid to be in hot and humid places. Apply some anticorrosive oil or lube to the spare parts like axis hole, bolts etc.Never touch the bow, especially the limbs, strings and cams with sharp objects.Never put the bow under heavy goods.Keep the bow out of children reach.
Purchase and shipping instructions
1. Multiple modes of payment are available for you to purchase.
2. Shipment term and cost can contact us according to the actual conditions.